Welcome to the home of NTL Football on Wiggle 100! Come back every week to find out what our Featured Game of the Week will be. Along with our upcoming broadcast schedule, past scores of games, and even new episodes of Shane Wilber's NTL Now podcast.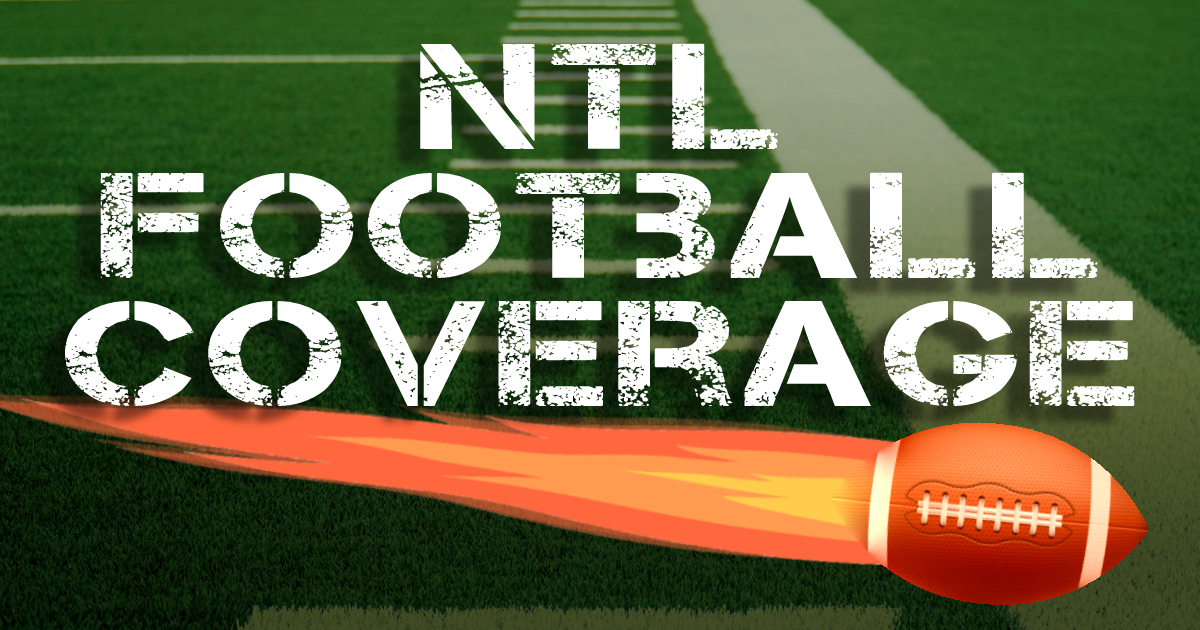 Thank you so much for a great 2021 season! Make sure you come back to listen during the 2022 season.
---
Can't Wait Until Next Season For NTL Football?
Check out Shane Wilber's podcast NTL Now on Spotify!
---
2021 Season Scores
Week 1 (August 27-30):
| | | | |
| --- | --- | --- | --- |
| Athens | 44 | Hanover Area | 6 |
| Wyalusing | 64 | Montrose | 0 |
| Sayre | 46 | Towanda | 9 |
| Canton | 48 | North-Penn Mansfield | 7 |
| Troy | 0 | Bald Eagle Area | 20 |
| Montoursville | 42 | Wellsboro | 21 |
| South Williamsport | 41 | Cowanesque Valley | 0 |
Week 2 (September 3-4):
| | | | |
| --- | --- | --- | --- |
| North-Penn Mansfield | 28 | Wyalusing | 18 |
| Athens | 0 | Troy | 12 |
| Canton | 52 | Towanda | 0 |
| Wellsboro | 17 | South Williamsport | 7 |
| Cowanesque Valley | 26 | Sayre | 19 |
Week 3 (September 9-10):
| | | | |
| --- | --- | --- | --- |
| Wyalusing | 8 | Muncy | 42 |
| Troy | 35 | Central Columbia | 7 |
| Towanda | 0 | Athens | 35 |
| South Williamsport | 7 | Canton | 21 |
| Sayre | 63 | Columbia Montour Vo-Tech | 14 |
| Cowanesque Valley | 15 | Northwest Area | 14 |
| Bald Eagle Area | 50 | North-Penn Mansfield | 7 |
Week 4 (September 17-18):
| | | | |
| --- | --- | --- | --- |
| Canton | 55 | Wyalusing | 20 |
| Montgomery | 16 | Sayre | 36 |
| Cowanesque Valley | 21 | Muncy | 42 |
| Athens | 0 | South Williamsport | 7 |
| Troy | 35 | North-Penn Mansfield | 0 |
| Towanda | 8 | Milton | 42 |
Week 5 (September 24-25th):
| | | | |
| --- | --- | --- | --- |
| Athens | 46 | Wyalusing | 6 |
| North-Penn Mansfield | 34 | Towanda | 7 |
| Canton | 42 | Northwest Area | 0 |
| Muncy | 42 | Sayre | 8 |
| Columbia Montour Vo-Tech | 12 | Cowanesque Valley | 50 |
| Troy | 21 | Wellsboro | 0 |
Week 6 (October 1-2):
| | | | |
| --- | --- | --- | --- |
| Wyalusing | 19 | Montgomery | 14 |
| Loyalsock | 14 | Troy | 42 |
| Towanda | 19 | Cowanesque Valley | 26 |
| Wellsboro | 0 | Canton | 26 |
| North-Penn Mansfield | 35 | Midd-West | 14 |
| Hughesville | 0 | Athens | 50 |
| Sayre | 39 | Huntingdon | 6 |
Week 7 (October 8-9):
| | | | |
| --- | --- | --- | --- |
| Troy | 21 | Sayre | 22 |
| Cowanesque Valley | 32 | Wyalusing | 0 |
| Athens | 44 | North-Penn Mansfield | 14 |
| Montgomery | 6 | Canton | 48 |
| Wellsboro | 38 | Port Allegany | 12 |
Week 8 (October 15-16)
| | | | |
| --- | --- | --- | --- |
| North-Penn Mansfield | 20 | Line Mountain | 19 |
| Wyalusing | 6 | Wellsboro | 24 |
| Towanda | 6 | Troy | 30 |
| Athens | 10 | Canton | 34 |
| Northwest Area | 30 | Sayre | 20 |
Week 9 (October 22-23)
| | | | |
| --- | --- | --- | --- |
| Towanda | 28 | Tunkannock | 55 |
| Hanover Area | 7 | Canton | 60 |
| Montgomery | 21 | Cowanesque Valley | 20 |
| Sayre | 12 | South Williamsport | 27 |
| Wellsboro | 49 | Athens | 13 |
| Troy | 48 | Wyalusing | 8 |
| Columbia Montour Vo-Tech | 0 | North-Penn Mansfield | 41 |
Week 10 (October 29th-30th) Rivalry Week
| | | | |
| --- | --- | --- | --- |
| Sayre | 6 | Athens | 7 |
| Cowanesque Valley | 20 | Otto-Eldred | 0 |
| North-Penn Mansfield | 0 | Wellsboro | 13 |
| Wyalusing | 8 | Towanda | 20 |
| Canton | 36 | Troy | 0 |
Week 11 (November 5th-6th) District Playoffs – Round 1
| | | | |
| --- | --- | --- | --- |
| Milton | 35 | North-Penn Mansfield | 0 |
| Montoursville | 48 | Athens | 17 |
| Loyalsock | 47 | Cowanesque Valley | 7 |
| South Williamsport | 36 | Wellsboro | 7 |
| Troy | 20 | Sayre | 6 |
Week 12 (November 12th-13th) District Playoffs – Round 2
| | | | |
| --- | --- | --- | --- |
| Canton | 45 | Muncy | 7 |
| Mount Carmel | 35 | Troy | 7 |
Week 13 (November 19th-20th) State Playoffs – Round 1
| | | | |
| --- | --- | --- | --- |
| Canton | 32 | Steelton Highspire | 27 |
Week 14 (November 26-27th) State Quarterfinals
Week 15 (December 3rd) State Semifinals
| | | | |
| --- | --- | --- | --- |
| Bishop Guilfoyle | 20 | Canton | 7 |
---